Places
Description
Edit

The tower is a very dark and gloomy building with a lot of staircases and undead creatures. The undead boss resides in the lowest part of the tower.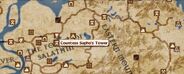 In the Salathin Forest to the south of Zerobilon, near Freyer's Farmhouse.
Occupants
Edit
Items/Rewards
Edit
Special Loot

Magic Items

Armour

Weapons/Ammunition

Silver Claymore (on Corpse of an Adventurer)
Steel War Axe
Steel Longsword
Steel Claymore
Silver Arrow 10x (from Skeleton Archer)

Enchanted Weapon

Enchanted Armour

Potions

Scrolls

Valuables

26 Gold
3 Gold (on Corpse of an Adventurer)

Other

Chests/Containers

Plants
Coordinates for Map marker: Wilderness (-2, 13)
Occupants
Edit
Items found
Edit
Plants
Levels/Rooms
Edit
One level, medium place.
Cell name: Countess Sapho's Tower - Editor ID TurmDerGraefinSapho
Tips/Notes
Edit
The magic Symbol is located high in an alcove.
Community content is available under
CC-BY-SA
unless otherwise noted.