Back to
Places
Description
Edit

You'll need to find all seven shrines and activate them. Near the shrine is a small camp with campfire and a bed used by Mardo.
Go West to the main upper road coming from Ostian, then when you see a faint marker to your left, instead of following the main road up north keep going west.
Coordinates for Map marker: Wilderness -16, -19
Occupants
Edit
NPCs
Creatures
Items Found
Edit
Book
5 Sacks with food items
Barrel with random low items
Plants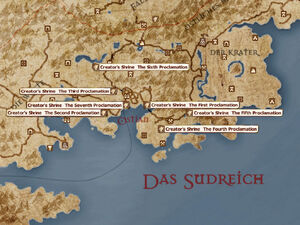 Previous
Next
Community content is available under
CC-BY-SA
unless otherwise noted.