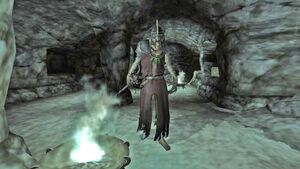 Back to Creatures
Statistics
Edit
Lvl
Type
EP
Respawn
Soul
Editor ID
6
Undead
84
5
200
60
No
Lesser
06Unheilbringer
18
Undead
340
5
200
180
No
Lesser
18Unheilbringer
18
Undead
340
5
200
180
No
Lesser
18UnheilbringerStahltross
Type of attack
Immunity
Weakness
Magic
N/A
Weaknes to Fire 15 % (only Lvl 18)
Drops
See description
Description
Edit
There are two types of Doom Bringer.
One at Level 6 and the other is on Level 18.
The level 6 Doom Bringer uses the spell Life Damage 3 Pts.
Level 6
Level 18
Items Dropped
Edit
Level 6
Random items (chance 50%)
Weapon
Level 18
Notes/Tips
Edit
Community content is available under
CC-BY-SA
unless otherwise noted.