Back to Places
Description
Edit

Cave occupated by Robbers and Adult Pit Rats. There is one Fire Sparks (+1 Luck) outside and inside a lot of Wisps and Macrolepiota for harvest. .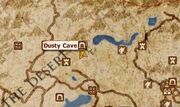 Dusty Cave is located directly North East of Vault of Tesselation and far East of Temple of the Creator.
Occupants
Edit
NPCs
Creatures
Items/Rewards
Edit
Enchanted Armour

Other Armor

Weapons

Potions

Apparatuses

Chests/Containers

Mining Rocks

Plants
Note
Items dropped by Robbers are found on proper page.
Coordinates for Map marker: Wilderness -18, -19
Occupants
Edit
2 Robber
Items found
Edit
Treasure Chests
Edit
Plants
Levels/Rooms
Edit
One level. medium place.
Cell name: Dusty Cave - Editor ID: StaubigeHoehle
Tips/Notes
Edit
Community content is available under
CC-BY-SA
unless otherwise noted.