Back to Places
Description
Edit

A fortress in the midst of the wilderness in the southern part of Fold Valley .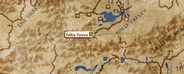 In
Fold Valley
. To get there, you need to find a waterfalll and turn right (west). A Tarantula will attack you and you will be able to discern the fortress in the distance.
Occupants
Edit
Items/Rewards
Edit
Special Loot

Armor Sets

Other Armor/Apparel

Rusty Iron Helmet
Leather Cuirass
Leather Helm
Quilted Shoes
Old Battle Robe (on Sorah the Alchemist)

Weapons/Ammunition

Rusty Iron War Axe (on Sorah the Alchemist)

Ingredients

Scrolls

Books

Potions

Crafting Tools

Other

A lot of dishes
Bear Pelt
Lynx Hide
Wolf Pelt

Chests/Containers

Chest with random clutter (respawn)
Chest with random potions (Rancid)
Quiver with 30 Iron Arrow
Barrel with random food items
Barrel with random low items
2 Sacks with Flour
2 Crates with 4 Iron Ore
2 Crates with random food items
2 Small Crates with random food items
2 Small Crates with random clutter
2 Sacks with 5 Gold
2 Sacks with random clutter
Sack with random food items
Bookrows with random books
Note
Coordinates for Map marker: Wilderness (-15, -12)
Occupants
Edit
Items found
Edit
Treasure ChestsEdit
Plants
Levels/Rooms
Edit
One level. medium place.
Cell name: Faltrin Fortress - Editor ID: Faltrinfeste
Notes/Tips
Edit
To get to the Demon, you will need to swim under water.
There is one Gate (Very Easy) that needs opening.
Use the second exit outside to search for some more loot.
Community content is available under
CC-BY-SA
unless otherwise noted.