Back to Places
Description
Edit

The fortress stands almost on the main road, when following the road northwards (from Alcazar's Last Bastion ). However, to get inside you need to go to the second part of the complex. First, climb up the stairs and meet with the hostile Bandit, that will immediately attack you. Go to the place where he was standing and you will notice a small passage/bridge to the second part of the building and more stairs. Go or jump down and you will be by the entrance to the Fortress. The fortress is pretty rich in general loot and cluster. The Bandits might be a bit difficult to face as they use invisibility or chameleon scrolls/potions. When you enter the fortress, you will notice a small ledge (to the right) with some loot (Topaz and Soul Gem) on it. You can cause the loot to fall down with an arrow. On the second level of the fortress there is one Gate (Average) that leads to a small storage room with two rats.

In Forest of Salathin, north of Alcazar's  Last Bastion .
Occupants
Edit
NPCs

Creatures

Creatures

NPCs

Boss
Items/Rewards
Edit
Armor/Apparel

Books

Scrolls

Apparatuses

Ingredients

Other

Potions

Chests/Containers

Plants
Note:
Coordinates for Map marker: Wilderness (3, 16)
Occupants
Edit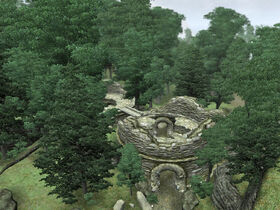 Items found
Edit
Chests/Containers
Plants
Levels/Rooms
Edit
Two levels, medium place.
Cells name: Fort Mandorn
Editor ID: FestungMandornPart01 / FestungMandornPart02
Notes/Tips
Edit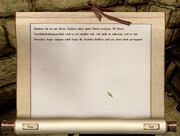 Community content is available under
CC-BY-SA
unless otherwise noted.