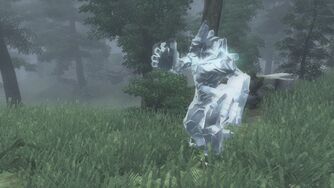 Back to Creatures
Statistics
Edit
Lvl
Type
EP
Respawn
Soul
'Editor ID'
13
Daedra
240
34
60
130
No
Greater
13Frostelementar
38
Daedra
450
80
180
310
Yes
Greater
30Frostelementar
Type of attack
Immunity
Weakness
Magic - Frost
See description
See description
Drops
Frost Salt, random stones (only Lvl 38)
Description
Edit
Frost Elemental come with different immunity and weakness: Level 13 attack with Frost spell magnitude 28.
Frost shield 10%
Frost Damage 28 Pts
Resist Frost 20%
Weakness to Fire 20%
Level 38 has not any immunity and weakness:. Attack with Frost spell magnitude 40.
Level 13
Level 38
Items Dropped
Edit
Ingredients
Level 38 Frost Elemental can drop one of this stones:
Notes/Tips
Edit
Community content is available under
CC-BY-SA
unless otherwise noted.