Back to Places

Giliad Secluded Boathouse is an unmarked house on the river west of Giliad . It contains some loot protected by a Very Easy lock.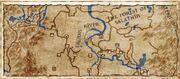 House in unmarked, but quite easy to find. Follow the east bank of the river west of Giliad .
None
Special loot

ingredients

Potions

Other

Chests/Containers

Chest Gold 20 (respawn)
Chest with random food items
Small Crate with random clutter
Crate with random food items
Sack with Silver Nugget and 12 random Gold
3 Sacks with Flour
Barrel with random food items
2 Barrels with random low items
Wardrobe with random clothing and low jewelry
Wardrobe with random books
Coordinates: Wilderness (-10, 9)
Nobody
One room.
Cell name: Giliad, secluded Boathouse - Editor ID: GiliadAblegeneHuette
Community content is available under
CC-BY-SA
unless otherwise noted.