Back to Places
Description
Edit

Mine of Duran is a medium mine with some good loot. The entrance (the ladder) to the mine is guarded by a Bandit of Sildonar and a Pickpocket of the Sildonar . Lockpicks will definitely come in handy in this mine.

Southeast from Giliad , South of Aeterna Camp , on the north bank of the river.
Occupants
Edit
NPCs
Items/Rewards
Edit
Special Loot

Armour Sets

Weapons/Ammunition

Potions

Ingredients

Other

Books

Chests/Containers

Minig Stones
Levels/Rooms
Edit
One level, medium place.
Cell name: Duran Mine - Editor ID: DuranMine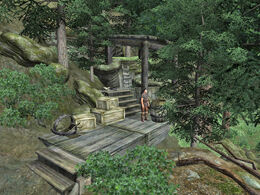 Coordinates for Map marker: Wilderness (-4, 4)
Occupants
Edit
Items found
Edit
Treasure Chests
Crate wirh 4 Iron ore
3 Crates with random food items
I cleaned the mine at level 7 without really trying
There is a frightened slave in the underground chamber, he simply runs away once you free him from the oppressors. No quest-related or something.
There are a lot of Iron Ore, good place from those who plan to take up crafting.
Lockpicks will be useful, some Easy or Very Easy locks inside.
To damage one Bandit, you can use the Logs and roll them on the unsuspecting bandit and damage him quite heavily.
The Notice in the first room give you some basic idea what the mine will look like ( a slave, a ot of Iron Ore).
Community content is available under
CC-BY-SA
unless otherwise noted.