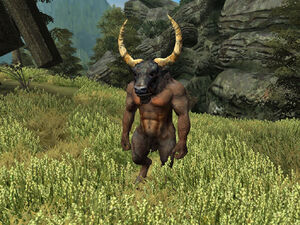 Back to Creatures
Statistics
Edit
Lvl
Type
EP
Respawn
Soul
Editor ID
40
Creature
450
93
20
400
Yes
Common
40Minotaurus01 - 002176BE
40
Creature
450
93
20
400
Yes
Common
40Minotaurus02 - 002176BF
40
Creature
450
93
20
400
Yes
Common
40Minotaurus03 - 002176C0
Type of attack
Immunity
Weakness
Melee
Resist magic 10%
N/A
Drops
Leveled Loot Micro Treasure 15
Description
Edit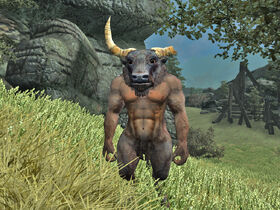 They are powerfull creatures and the first on the list has the Ability
Head Butt.
He can be recognized for the broken Horn (to much disintegrated armors). Part of Leveled creatures and respawnables.
Damage Health 20 Pts
Disintegrate Armor 200 Pts
They are all around Treomar , except one that is found on the graveyard near the dams on the way to Mahrnitz.
Items Dropped
Edit
With learned Hunting Skill
Notes/Tips
Edit
The 40Minotaurus02 (with yellow horns) drops nothing.
Minotaur from Daromith Mine
Edit
Lvl
Type
EP
Respawn
Soul
Drops
30
Creature
20
20
300
No
Common
See description
Type of attack
Immunity
Weakness
Melee
N/A
N/A
Editor ID
DaromithBestiariumMinotaurus - 001C88D1
Community content is available under
CC-BY-SA
unless otherwise noted.