Installation Help
>
Nehrim Wiki
Requirements
You will need to have Oblivion installed, fully patched upto version v1.2.0416. If you have GOTY or KOTN it will already be fully patched. You will need to have the latest version of Nehrim downloaded (at time of writing the DE (German version) is at v1.0.9.5 and the EN (English version) is at 1.0.9.1.
You can look for download links here :http://www.moddb.com/mods/nehrim-at-fates-edge/downloads
6gb min of empty space on Hard Drive. 10gb + would be preferable.
Installation
When installing the Nehrim installer will automatically detect your Oblivion install directory and offers to make a Nehrim based duplicate. Please be patient, on some UAC protected pc's it can take 30 seconds plus to start.
Change the default install directory from C:\Program Files\SureAi\Nehrim to something along the lines of C:\Nehrim. This is based on the fact that the UAC protection on many OSes interfere with the launch.
Keep the "Run Nehrim Launcher" checked. Allow the Launcher.exe to launch.
Click the Data Files button. The only entries which you should tick are :-
Nehrim.esm
NehrimData.esp
NehrimEnglish.Esp (if this is the EN version you are playing)
The Nehrim Launcher is very helpful. You will find tabs along the top which include a readme. If installation has not worked this is the first place to look for help. Non of you Oblivion mods will work for Nehrim unless they have been converted. Many mods already have been converted and many new ones just for Nehrim are being developed. Again along the top of the Nehrim Launcher is a Mod tab for checking on Mods. Nehrim is complete but still a work in progress.
You should now click the accept button. You will also see a settings button which contain a lot of different ways too alter the look of Nehrim. Also when you enter the game, you can access more settings through the diary or use the esc button and configure through the Video or Gameplay screens. All the cheat codes that worked for Oblivion (I believe) work with Nehrim.
Also notice on the launcher there is an automatic updater for when new versions arrive.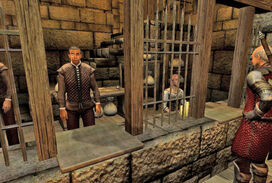 More Help/Tips
More help can always be obtained from the SureAi forum at http://www.sureai.de/forum/index.php. or use the tab link to the forum at the top of the Nehrim Launcher.
A very detailed guide on how to install Nehrim: http://www.sureai.de/forum/viewtopic.php?f=87&t=4448
Community content is available under
CC-BY-SA
unless otherwise noted.