Back to Places
Description
Edit

A mine full of Robbers and some crafting materials deposit (extracted from Lode, Bonanze, Silver Vein). To find some of the deposits you need to remove some Rotten Boards. There is one Doors (Average), but it can be opened with Norfolbruch Key that is to be found on a nearby crate. The mine is also called The Norfol Mine.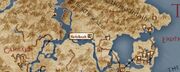 West of Zelara's Tomb
Occupants
Edit
NPCs
Boss
Items/Rewards
Edit
Special Loot

Armour Sets

Armour

Potions

Books

Scrolls

Ingredients

Weapons

Other

Clutter

Quill
Fork
Inkwell
Pewter Pot
Skull
Stone Mug
Stone Cup
Stone Pitcher
Plate
Tan Pitcher
Bowl

Chests/Containers

Chest Gold 20 (respawn)
Chest with 5 Gold
Barrel with random food items and mushrooms
Small Crate with random food items
Wardrobe with random low items

Mining Stones
Note
Coordinates for Map marker: Wilderness (-19, 26)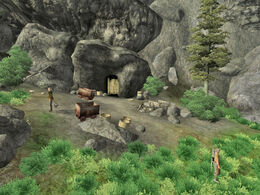 Occupants
Items found
Edit
Chests/Containers
Plants
South west (near the dam) are more silver veins with some loot. More here.
Levels/Rooms
Edit
One level, medium place.
Cell name: The Norfol Mine - Editor ID: NorfollbruchPart01
Tips/Notes
Edit
Community content is available under
CC-BY-SA
unless otherwise noted.