Back to Places
Description
Edit

The Old Pit, Shaft; is a small mine shaft located on the road from Tirin Abbey (in Fold Valley). The most notable creature is probably the Cave Troll, but luckily there is only one (and located on the opposite side of the shaft from where the loot is found). To enter the mine you need to climb down the ladder outside the mine.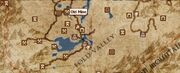 Near the road from the Tirin Abbey towards north near the pond.
Occupants
Edit
Creatures
Items/Rewards
Edit
Special Loot
Other
Treasure Chest
Plants
Coordinates for Map marker: AlteGrube (-11, -4)
Occupants
Edit
Levels/Rooms
Edit
Only one level.
Cell name: Old Pit, Shaft - Editor ID: AlteGrubeSchacht
Tips/Notes
Edit
Community content is available under
CC-BY-SA
unless otherwise noted.