Back to Places
Description
Edit

Small Chapel, now refuge of bandits Part of the complex situated nearby: Fortress of Pandorn and Monastery of Pandorn. Next to the entrance to the chapel is a small crate and a quiver with 35 silver arrows on it. West of Chapel is found a Robbers Camp and a ruined house. A bit south is another chest and a mound.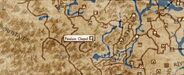 In Northern Plains, south west of ruined city of Mortram. Follow the river.
Occupants
Edit
NPCs
Items/Rewards
Edit
Magic Items

Ingredients

Books

Scrolls

Chests/Containers

Crate with 4 Iron Ore
Small Crate with random clutter
2 Sacks with Flour
Moneybag with random Gold
Sack with 4 Corn
Note
Coordinates for Map marker: Wilderness (-25, 15)
Occupants
Edit
Items found
Edit
Chests/Containers
Plants
Levels/Rooms
Edit
Just one room.
Cell name: Chapel Of Pandorn - Editor ID: PandornKapelle
Tips/Notes
Edit
You can sleep in bedrolls.
Community content is available under
CC-BY-SA
unless otherwise noted.