Back to Places

Naradoth is a two level ruin inhabited by Revenge Filled Spirits, Skeletons, Skeleton Mages and Zombies. There is a boss Outcast Star Mage who carries the key that allows you to reach the next level. You have to go through the last level and exit from there in order to activate a switch allowing access to the undead boss Istanur, which is locked inside the first level, so you'll have to backtrack a little.
There is a spiked area below the undead boss arena, be careful not to fall over them.
Deep inside in The Dark Forest.
NPCs

Boss

Creatures

NPCs

Boss
Armour Sets

Armor

Magic Items

Weapons/Ammunition

Potions

Scrolls

Books

Other

Chests/Containers

Plants

Armor

Magic Items

Other

Weapons

Ingredients

Potions

Scrolls

Chests/Containers
Coordinates for Map marker: Wilderness -25,1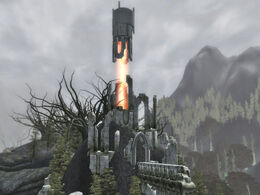 Treasure Chests
Plants
Two levels ruin with two exit points.
Cells name: Naradoth
Editor ID: NaradothPart01 / NaradothPart02
Community content is available under
CC-BY-SA
unless otherwise noted.