Back to Places
Description
Edit

It has good loot and a great amount of Arcane Stones and Teleport Runes. In order to lower the staircase in the boss room you need to press only ONE of the switches in the room. Pressing the second switch will undo the effect and you will still not be able to lower the staircase. One Easy Gate to open. In this ruinn, you can collect the whole Apprentice Alchemy set.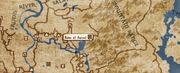 Ruins of Aureal is a big ruin situated North of Arcane Sanctum.
Occupants
Edit
Items/Rewards
Edit
Special Loot

Apparatuses

Armor

Scrolls

Potions

Chests/Containers

Special Loot
Chests/Containers
Old metal barrel with 13 Gold
Old metal barrel with 2 Scroll of Vulnerability (Easy), 2 Flawless Ruby and 1 Gold
Old metal barrel with Flawed Diamond, Flawed Ruby and 6 Gold

Special Loot

Armor Sets

Weapons

Armor

Apparatuses

Scrolls

Ingredients

Potions

Chests/Containers
Note:
Coordinates for Map marker: Wilderness (2, 4)
Occupants
Edit
Levels/Rooms
Edit
Three levels, large ruin.
Cells name: Aureal Halls
Editor ID
Level 1 - AurealHallenPart01
Level 2 - AurealHallenPart02
Level 3 - AurealHallenPart03
Tips/Notes
Edit
Battlemages are hard to kill, sneak on them and use a bow with a poisoned arrow.
To reach Arcane Stones on pillars use an arrow or Telekinesis to take them.
Be careful for the trap near the Magic Symbol ( the plate with a skeleton).
In a room where a Frost Sphere explodes the health points will start to drain quite quickly due to the frozen air.
In ruins you can find some Switches which will open/lower some new areas.
Community content is available under
CC-BY-SA
unless otherwise noted.