Back to Places
Description
Edit

Showground Sewers is a small cave South of Erothin guarded by Goblins and Rebels. There is one Gate (Average) to lockpick. When leaving the sewers throught the other exit (the one just by the boss) you will be in area called Showground . There is an Average locked grate in the end. It leads to a small chest with some random loot.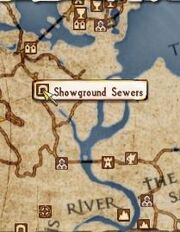 Coordinates for Map marker: Wilderness (-12, 17)
Occupants
Edit
NPCs
Creatures
Boss
Items/Rewards
Edit
Magic Items

Armour Sets

Armor/Apparel

Fur Boots (on Karzor)
Fur Gauntlets (on Karzor)
Fur Greaves (on Karzor)

Enchanted Weapon

Weapons

Leather Covered Bow
Dull steel dagger
Silver Shortsword (on Karzor)

Potions

Ingredients

Scrolls

Books

Other

Seal
Stone Pitcher
Tan Cup
Stone Cup
Inkwell
Pewter Mug
Pewter Pitcher
Ladle
Plate
Fork
Basket
Bowl
Bone
Skull
Quill

Chests/Containers
Note
Levels/Rooms
Edit
One level, medium place.
Cell name: Tournament Ground, Sewers - Editor ID: TurnierplatzKanalisation
Tips/Notes
Edit
Community content is available under
CC-BY-SA
unless otherwise noted.