Back to Places
Description

The entrance to the cave is situated near a typical stone circle and there is a hatch door (Easy) to the inner cave. The place is inhabited by Strong Flame Keepers, Thunder Lizards and Bale Keepers. A high degree of stealth might be useful as well as powerful spells or weapons.
Location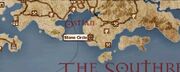 In The Southern Peninsula south of Ostian.
Occupants
Creatures
NPC & Boss
Items/Rewards
Special Loot

Magic Items

Enchanted Armor

Armor

Weapons

Potions

Scrolls

Ingredients

Books

Chests/Containers

Mining Stones

Plants
Exterior
Coordinates for Map marker: Wilderness (-8, -29)
Occupants
Items found
Levels/Rooms
One level. medium place.
Cell name: Southern Stone Circle Temple Editor ID:SuedreichSteinkreisHhle
Maps
Notes
Community content is available under
CC-BY-SA
unless otherwise noted.