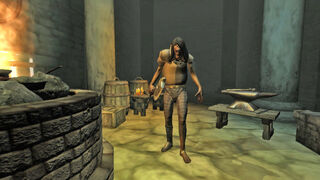 Back to Creatures
Statistics
Edit
Lvl
Type
EP
Respawn
Soul
Drops
25
Undead
420
30
80
250
No
Common
See description
Type of attack
Immunity
Weakness
Melee/Magic- Shock
Resist magic
Weakness to Fire 25%
Editor ID
23UNIMeisterschmied - 001F481C
Description
Edit
The Master Smith is found in his forge the end of Steel Rail Mine. He uses a Steel War Axe and attacks with Electrical Magic. On his person you should find a pair of Shadow Touch Boots and a Life Ruby (20 pts.). His diary, entitled Diary of the master blacksmith, is also found in his forge.
Can cast Invisibility, has the ability Resist magic:
Reflect Damage 15%
Resist Disease 100 %
Resist Frost 20 %
Resist Magic 10 %
Resist Poison 100 %
Absorb Damage 15%
Weakness to Fire 25%
At Steel Rail Mine during the quest The Cry from the Deep.
Items Dropped
Edit
Weapons
Armour/Apparel
Other
Notes/Tips
Edit
(This page was originally created by Blink1, TheHawkNE, edited in order to make it streamlined with the quest and the location)
Community content is available under
CC-BY-SA
unless otherwise noted.