Back to Places
Description
Edit

A fortress filled with undead creatures. Watch your step when you start exploring the cave. Otherwise, you might fall into a water-filled hole.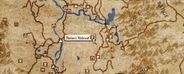 In Eastern Fold Valley, west of Arcane Sanctum .
Occupants
Edit
Items/Rewards
Edit

Coordinates for Map marker: Wilderness (-3, 1)
Occupants
Edit
Items found
Edit
Levels/Rooms
Edit
Two levels, medium place.
Cells name: Thoian's Hideout
Editor ID: ThoianPart01 / ThoianPart02
Tips/Notes
Edit
Community content is available under
CC-BY-SA
unless otherwise noted.