Back to Places

The first village where you arrive during your adventures in Nehrim. It used to be a safe haven for you. Here, you spent your childhood, protected by the teacher, High Priest Aratornias. It is a peaceful and quiet village with a few trade routes. You can find a Safe Storage Chest in the centre of the Abbey. The village has some basic buildings, an Inn, a Chapel, a Teleportation Platform, a cemetery, and some beehives.
You can also break into some places:
When crossing the bridge which leads out of Tirin Abbey you will come across a small farm with some domestic animals and a field. If you are planning to focus on the Alchemy skill, you can collect a lot of Corn Stalk from the field near Leanah's House. Nearby you will notice an entrance to a locked Shed (easy). Inside the shed you will be attacked by one Nasty Kobold. Apart from the Kobold, there are plenty of flour portions to collect and numerous dishes.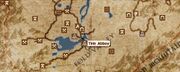 East of the Shadow Song Mine Site, by the lake.
Coordinates for Map marker:
The Secure Chest is located near the tavern.
A Teleport platform can be found near the Chapel.
Only Tirin Abbey outside.
Community content is available under
CC-BY-SA
unless otherwise noted.