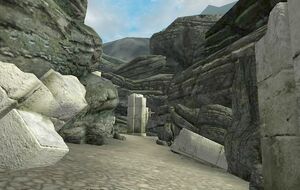 Back to
Places

On the main road south east from Treomar.
Coordinates: Wilderness -33,-18
Description
Edit
A pass near the border with the Southrealm. The border is protected by a magic barrier and there is no passage untill the events in Main quest Journey into Madness. There is a small Aeterna Battlemages camp and a bit further three bandits awaits on the road. On the right side of the road, a bit uphill is one Fire Sparks (+1 Luck).
Occupants
Edit
Creatures
Edit
Items/Rewards
Edit
Special Loot
Edit
Trasure Chests
Edit
8 Barrels with food and random low items.
Community content is available under
CC-BY-SA
unless otherwise noted.