Back to Places

A Frontier town located before the crater area and port of departure to Arktwend on the Main Quest Into the Forsaken Country. The Bastion of Waverock is also located here.
Before departing you have a little adventure in Waverock, Remote House.
East Coast of the Middlerealm.
Coordinates for Map marker: Wilderness (15, -3)
NPCs
Creatures
The chest is located near the smith.
Teleport platform is located near the chapel.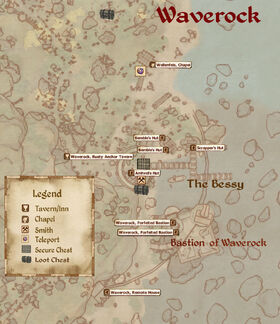 Near the smithy you will find Grindstone (T), Forging Fire (T) and Bellows (T).
Community content is available under
CC-BY-SA
unless otherwise noted.