Back to Places
Description
Edit

You come here during the Side quest The Family Tree Tablet in Treomar. Make sure you take everything you need before going out, as the jump downward won't let you go back for a recheck.
The Southern Tower is incorrectly labeled "West Tower" on the world map.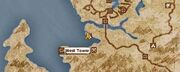 South West of Treomar ruins, initially accessible only via flight from Treomar Beacon Site.
Occupants
Edit
NPCs
Creatures
Items/Rewards
Edit
Special Loot

Armour Sets

Magic Items

Armor

Coarse Linen Shirt (on Corpse of an Adventurer)
Laced Leather Pants (on Corpse of an Adventurer)

Weapons/Ammunition

Potions

Apparatuses

Ingredients

Scrolls

Other

6 Gold
3 Gold (on Corpse of an Adventurer)

Chests/Containers
Coordinates for Map marker: West Turm -44, -17
Occupants
Edit
Items found
Edit
Levels/Rooms
Edit
One level. small ruin.
Cell name: The Southern Tower
Editor ID: WestturmPart01
Community content is available under
CC-BY-SA
unless otherwise noted.